Affordable Left Foot Pedal Accelerator
Regular price

Price:

$ 129.95 USD

Regular price

Regular Price:

$ 249.95 USD

Sale price

Price:

$ 129.95 USD

You save:

$ 120.00 USD

(48%)

Unit price

per
10% off and Free Shipping | Coupon Code: AMM2023 | Ends:
can this be install on a 2021 rav4 hybrid

All of our products are designed to be universal.  If your installer determines that it will not work for your vehicle's configuration, it can be returned for a refund.

Can right foot blocker be added?

They have a right foot guard as part of the system.
Share
LEFT FOOT GAS PEDAL ACCELERATOR WITH QUICK RELEASE MOBILITY AID FROM ABLE MOTION
Able motion, after a quick  installation (by a professional), allows the ability to easily use the accelerator pedal of any car, truck, or van with your left foot. Specifically designed for individuals with limited or no mobility of the right foot or leg, the Able Motion innovative solution allows for easy operation of any vehicle with only using your left foot. The fully adjustable accelerator actuator mimics the motion of the left foot onto the gas pedal of your vehicle. The unit is "quick release" in that you can easily remove the top portion of the device from the base plate that is bolted into the floorboard of your car. This makes it convenient to convert your vehicle from a left foot accelerator operated vehicle to a right foot operated accelerator and visa versa in just seconds. Safety and adjustability were primary concerns with the development of this product so that you can adjust the relative angle of the left foot pedal to the actuator arm to your desired comfort level and your vehicles configuration. Moreover, there is a safety latch system that secures the top portion from being able to separate from the bottom portion unless the quick release locking bar has been manually disengaged with the pull of a pin.
Made from Aluminum, Galvanized Steel, and Stainless steel, Able Motion left foot pedal accelerator by Able Motion is built to last a lifetime with no corrosion. The Precision CNC machined parts, high friction rubber pedal surfaces,  fully adjustable pedals/actuator, and spring loaded gas pedal activator are just a few of the features that separates Able Motion from anything else on the market.
Specs:
Easily convert any vehicle to left foot accelrator operated

Easily remove top portion of the device with the quick release pin and convert back to normal right foot operated accelerator

Quick installation, just bolt the baseplate to the floorboard in the correct position with brake in between the pedals - **Must be installed by professional mechanic or adaptive device installer

Aluminum, and SS precision CNC construction with galvanized hardware

Spring loaded and adjustable actuator to work intuitively and fit any vehicle

Anti-slip grip on pedal
---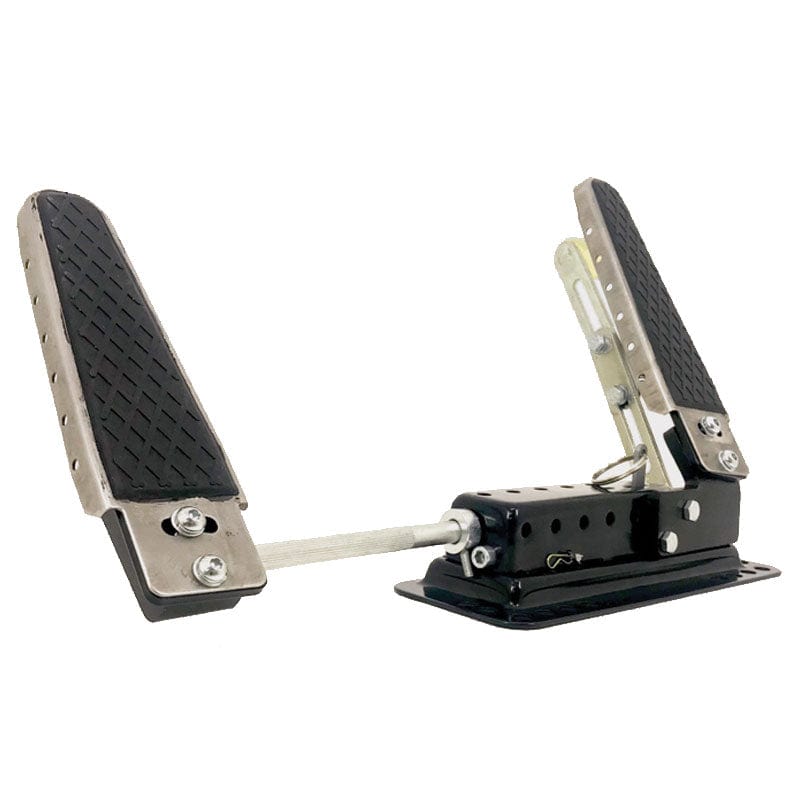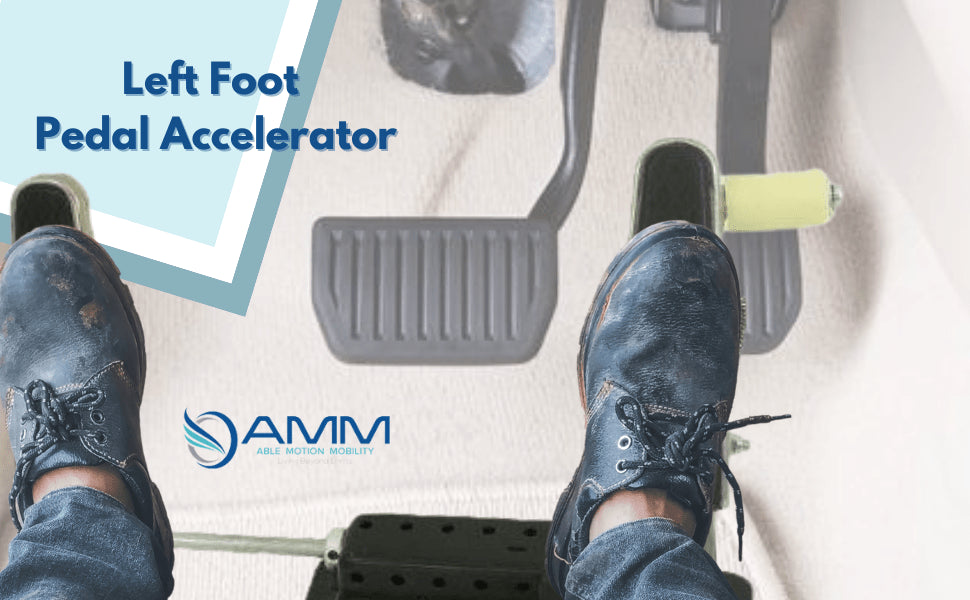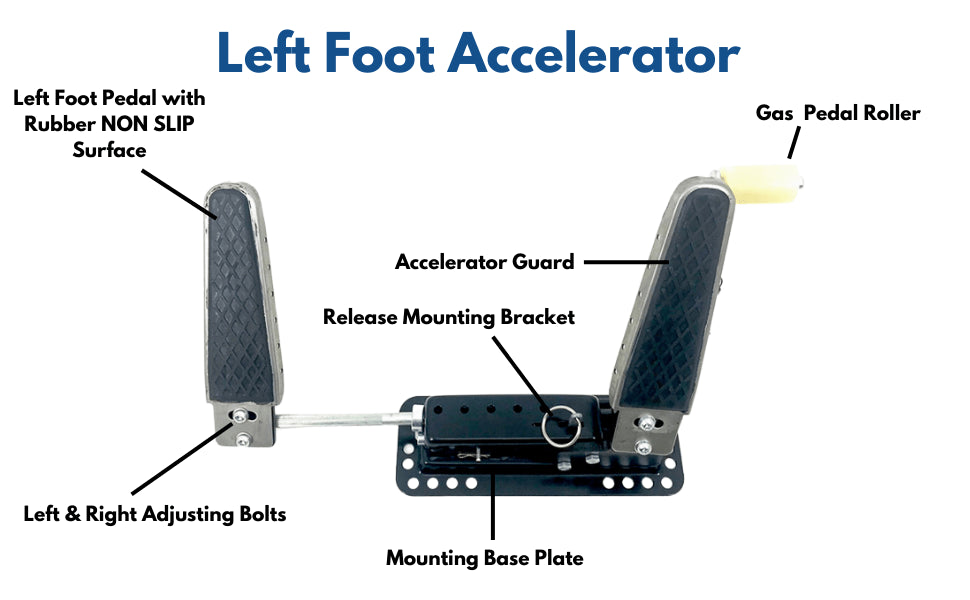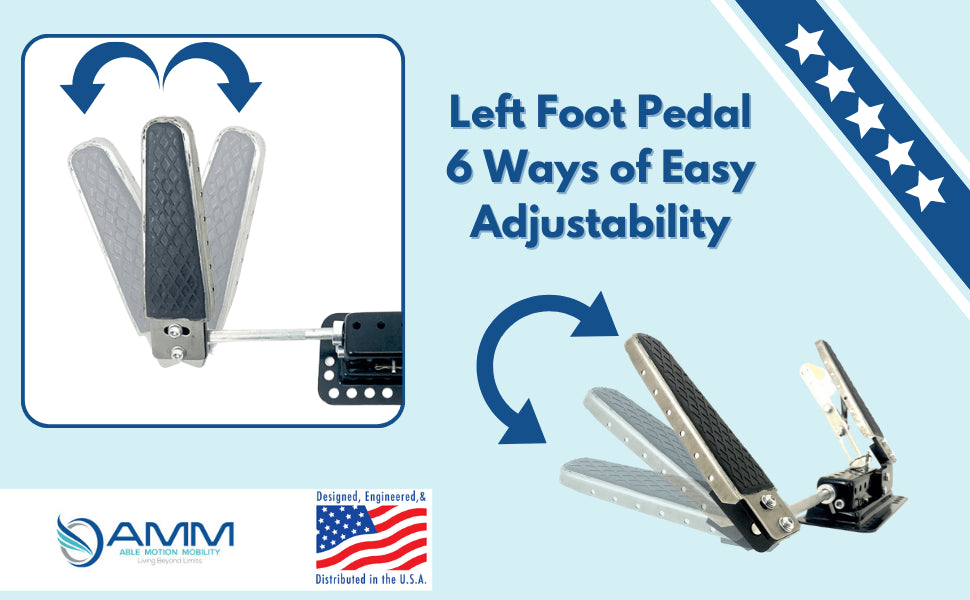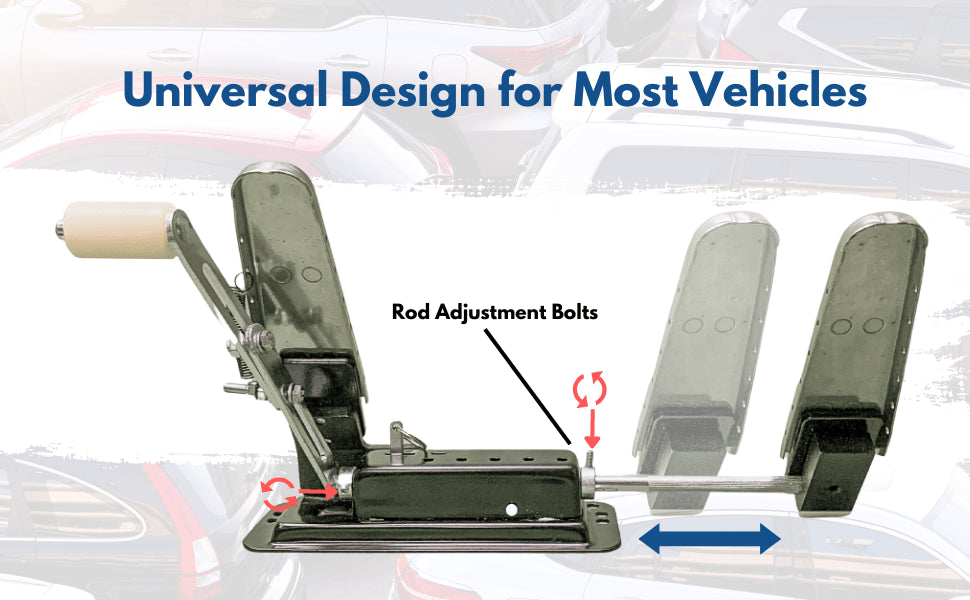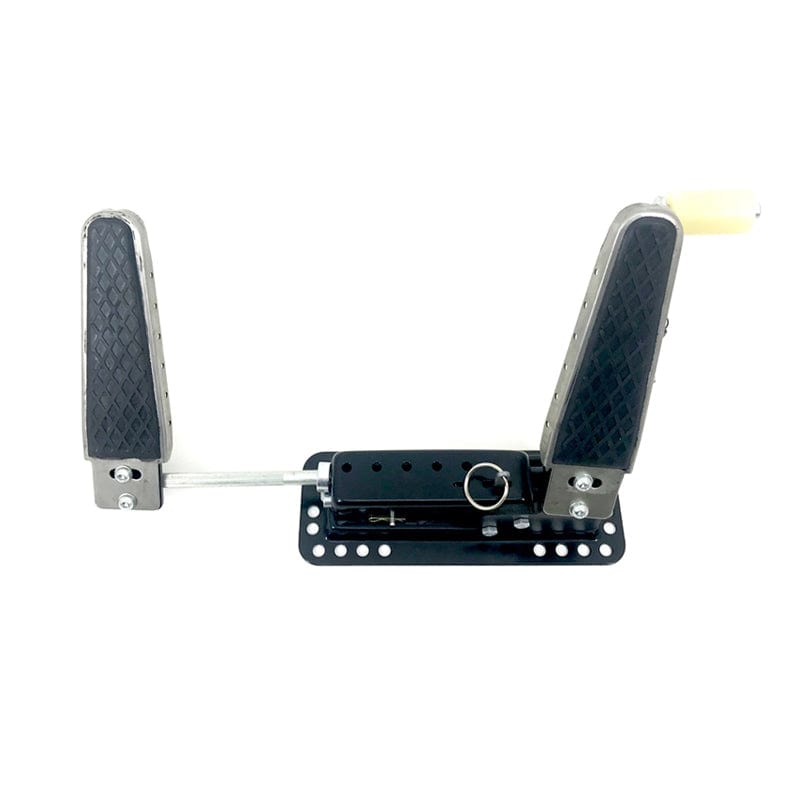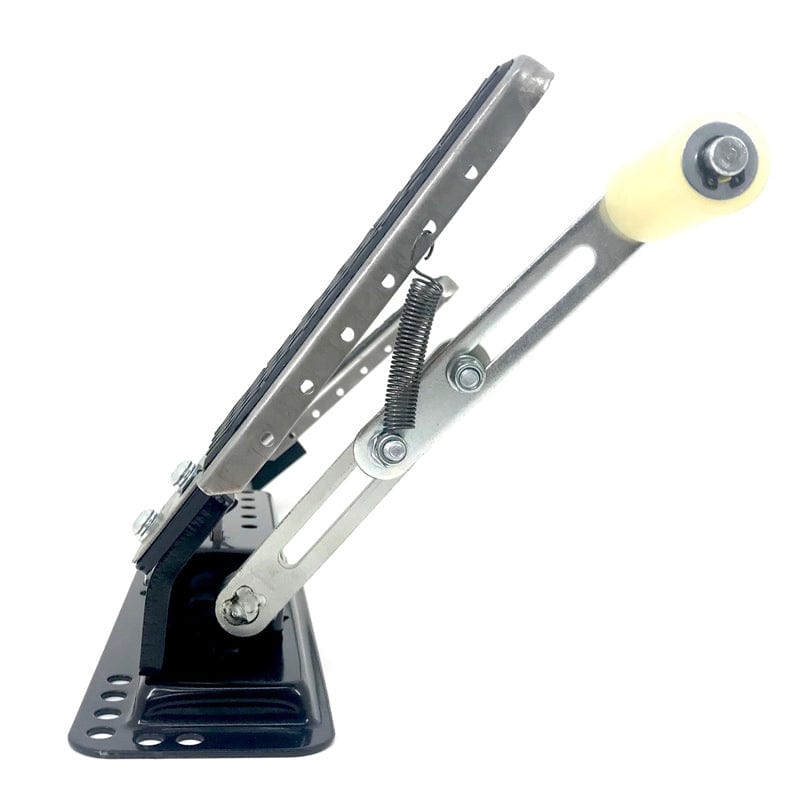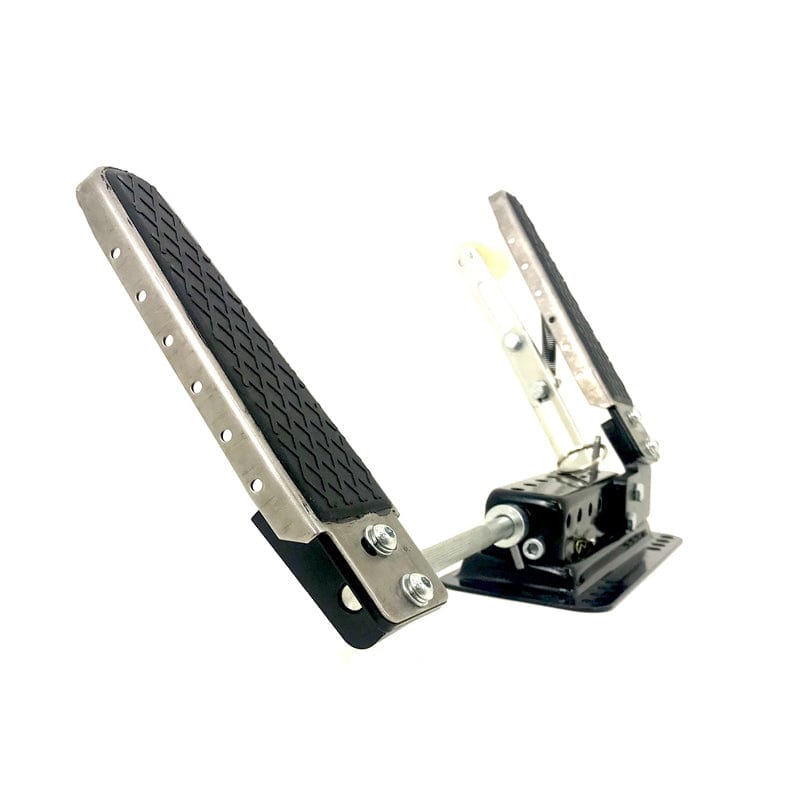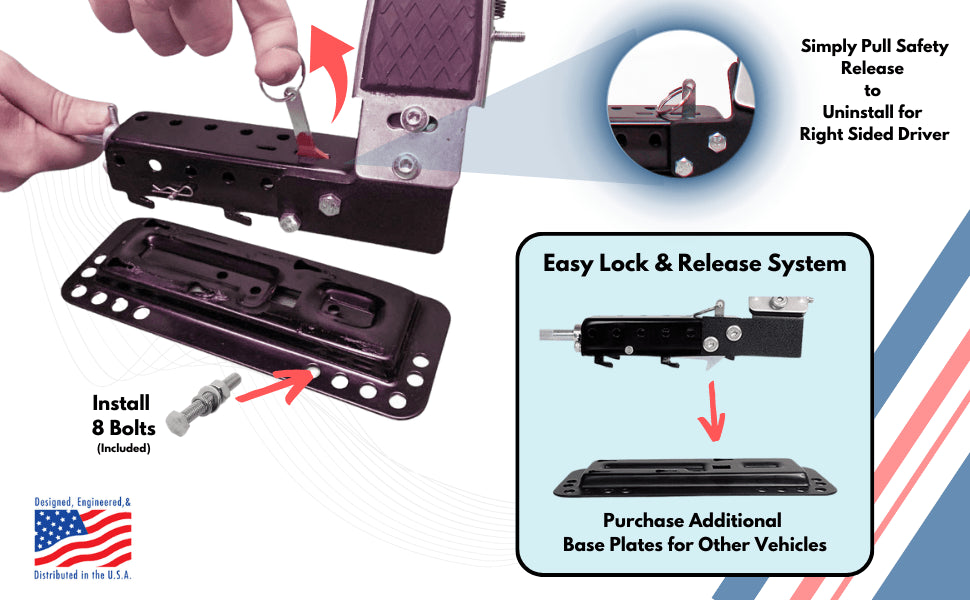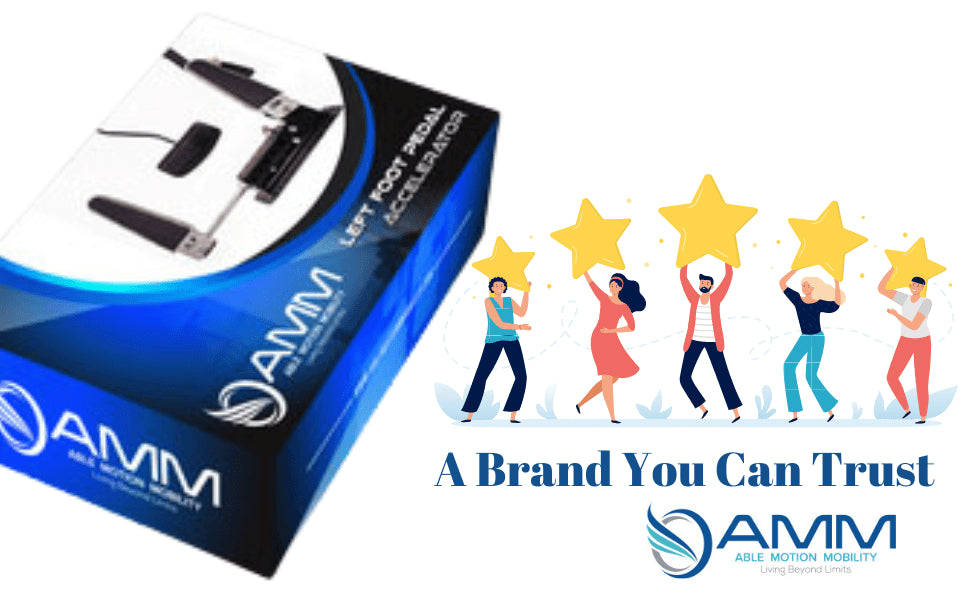 Left Foot Gas Pedal Adaptor
I bought the left foot accelerator adaptor, about 30 days ago. My local Big O tire store did the install. I was stuck at home not able to get out for 6 years. I had to ask people for rides to the doctor, to the grocery store, to the library.. everywhere. Not now! I drove for 55 years, motorcycle accident, lost my right leg. Stuff happens. Now I can drive again. I started just sitting in the drive seat. Started my truck. Then I drove around the block. I cheat, I use my right leg to brake. Now I drive on the freeway, [****] miles. I'm still in a
wheelchair, but I'm driving in my truck.
Have not put it on.
My Son thinks it's great.
Left Foot Accelerator
Installation went very well. I have two of the LFA, one for car and one for my truck. The LFA has a lot of adjustment to it but I would like to have seen some adjustment for the accelerator foot guard. That has not adjustment and is a problem in my car that I used some washers behind the bracket to adjust it out slightly. Otherwise it's a good product
Ability
Looks wonderful if only I could get somebody to install it for me
Affordable Left Foot Pedal Accelerator