Portable Left Foot Accelerator Pedal
Regular price

Price:

$ 229.95 USD

Regular price

Regular Price:

$ 349.95 USD

Sale price

Price:

$ 229.95 USD

You save:

$ 120.00 USD

(34%)

Unit price

per
Notify me when this product is available:
10% off and Free Shipping | Coupon Code: AMM2023 | Ends:
how much space is needed for this to work properly? i have a 2007 toyota 4 runner will it fit?

The portable plate measures  inches by  inches.  Hopefully that information will help.

Will this product work on 2011 Honda Accord? (Portable left foot accelerator)

The portable plate measures about 11 inches by 12 inches. That should help you determine if it will fit.

how to install?

The item will come iwth an installation manual.  If you already ordered and are missing your manual, please email us with you r original order ID#. 
info@ablemotionmobility.com

The White Roller is not touching the gas pedal how should do it need help any video or instructions?

How to make those adjustments is in the manuals that the device came with.  Please email us directly at info@ablemotionmobility.com if your package did not have them.

Can I Remove the Guard and if I can how So

If you mean the guard that is in front of the actuator arm, no, we do not recommend removing that.  It is there to prevent the acuator arm from being engaged by anything except the left foot pedal.

It's hard to brake with the bulky box how to fix it

If you are using the optional feet under the portable plate, remove those if you can.  That will lower the entire system a good bit.  Another option is to be sure you have the actuator arm as close to the box as possible so the box can be situated as far to the right as it can.

What are all of the dimensions of this unit. I know the plate is 12 x 12. But what is the height of the pedals, etc.

The minimum width is the 11-12 inches of the portable plate.  The minimum height is 10.5 inches.

Will this work in a 2017 Fiat Spider 124

The portable plate measures abour 11 inches by 12 inches.  The minimum height that it can be is about 10.5 inches.  Hopefully that helps

what keeps this device in place?

When fully assembled, it weighs about 16 pounds.  It is the weight and the strip of velcro that keep it in place.  If it is an option, we recommend choosing one of the fixed models.  Nothing will be as secure as one that is drilled into the floorboard.

Will this work in a Kia Soul

Our devices are designed to have a universal fit.  The portable plate measures 11 inches by 11 inches, if that helps...

What is the weight of the Pedal?

When assembled, around 17 pounds

Will this work in a 08 Lincoln nevightor?

They are designed to be a universal fit.  The portable plate measures 12 inches by 12 inches.  That may help in your planning.  They can be returned if your installer determines it will not work for your vehicle's configuration.

will this fit in a 2014 C 300 mercedes? What about a Honda Odyssey Minivan 2005?

They are designed with a universal fit, but can be returned if they don't work.

Can I order parts? I am looking for the groved rod that goes across.

Please email us directly at 
info@ablemotionmobility.com
Share
ABOUT THE PRODUCT
Our Portable Left Foot Accelerator Pedal is the BEST KEPT SECRET for those with a desire to become more independent.
Specifically Designed for Individuals with

 

Limited or No Mobility of the Right Foot or Leg

.
An Innovative Solution that 

Easily Converts Any Vehicle

 

to Left Foot Accelerator Operated.
Fast and Easy Installation

.
Spring Loaded

 and 

Adjustable Actuator

 to Work Intuitively, and 

Fit Any Vehicle

.
'Quick Release System'

 Making it Easy to Switch Back to Right Foot Accelerator.  
Aluminum

, and 

SS Precision CNC Construction

 with 

Galvanized Hardware

.
PRODUCT DESCRIPTION
Able Motion Mobility Portable Left Foot Accelerator Pedal is designed to provide users with a portable device that acts and feels like an existing factory pedal. This unit is lightweight, quick to install and/or uninstall, and features safe and easy adjustability.
Our LFA is equipped with a "Quick Release System" making it convenient to convert most vehicles from a right foot operated accelerator to a left foot operated accelerator, and visa versa in just seconds.



Quality And Safety You Can Count On Is Built Into Every AMM Product.


This product was built with those same exacting standards.
Adjustability of the Relative Angle of the Left Foot Pedal

 to the Actuator Arm 

to Your Desired Comfort Level

 and Your Vehicles Configuration.
A 

New Set Screw

 on The Flattened Steel Rod 

Prevents Unexpected Pedal Rotation

.
Safety Latch System

 that 

Secures the Top Portion From Being Able to Separate From the Bottom Portion

 Unless the 

Quick Release Locking Bar

 has Been Manually Disengaged with the Pull of a Pin. Allowing Right Foot Drivers to Use the Car in Short Order.
The Portable LFA comes with Precision CNC Machined Parts, Fully Adjustable Pedals/Actuator, and Spring Loaded Gas Pedal Activator. Made from Aluminum, Galvanized Steel, and Stainless Steel - Built To Last a Lifetime With No Corrosion! These Are Just a Few of the Features That Separates Able Motion Mobility from Anything Else on the Market!
***Products of this type should always be set-up or installed by professional mechanic or adaptive device installer. We HIGHLY recommend a driver evaluation performance by a qualified evaluator.
The concept behind our complete line of limited mobility products were designed with you in mind. Helping you to navigate your world a little bit easier by providing you with quality products that will help you gain more independence, added security, and an overall better quality of life.
We stand behind each and every product we sell. If you are not satisfied with your purchase, you can return it for a replacement or a full refund. ***
***Items must be returned within a year of purchase.
---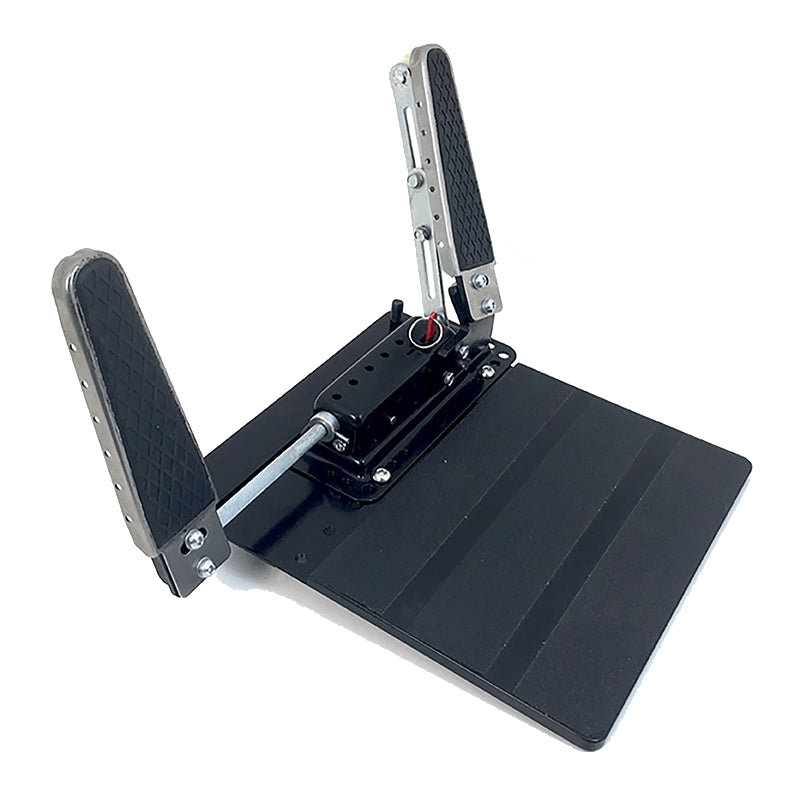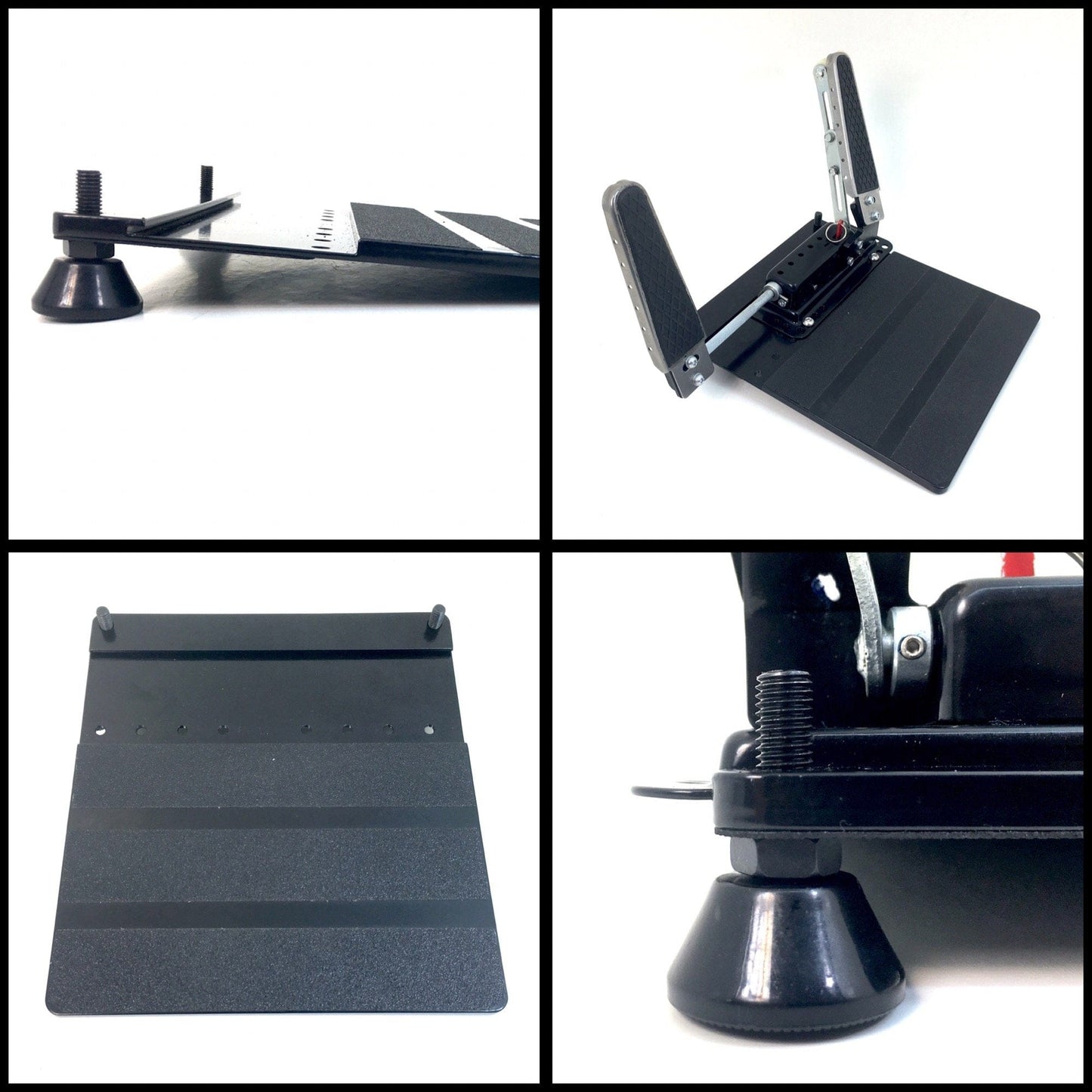 Review
Hated it totally unsafe would never
Portable Left Foot Accelerator Pedal
Love It!!
I was worried about being able to drive after being diagnosed with foot drop in my right foot. Purchasing this pedal has given me my independence and self confidence back!! Works great and is easy to adjust to my Mom's vehicle when we go out of town.
Portable Left Foot Accelerator Pedal