Affordable Left Foot Pedal Accelerator
Regular price

Price:

$ 129.95 USD

Regular price

Regular Price:

$ 249.95 USD

Sale price

Price:

$ 129.95 USD

You save:

$ 120.00 USD

(48%)

Unit price

per
10% off and Free Shipping | Coupon Code: AMM2023 | Ends:
will this work in a class 8 road tractor

We are not sure.  They may if the pedals have similar configuration to automobiles.  They can be returned for a refund if your installer determines it will not work.

What's the average cost of installation?

We apoligizze.  We do not know.

Can this pedal be laid down forward on the floor? To make the vehicle right foot driveable

It has a release mechanism so it can be removed for a right footed driver.

RE: Left foot pedal accelerator. What are the dimensions of the plate that gets bolted to the floor?

about 3 inches by 8 inches

Will this fit a Volkswagen jetta gli 2005

They are designed to be universal.  If your installer determines it will not work for your vehicle's configuration then it can be returned for a refund.

will it work in a 2018 Toyota corolla?

Our products are designed to be a universal fit.  They can be returned for a refund if your installer detrmines they will not work for your vehicle's configuration.

Is this brake and gas assembly

It is a left foot gas pedal

How much does it way in lbs?

Around four pounds

Does able Mobility have installers in Dade and Broward County of their left foot accelerators

We do not do installations.  We recommend entering your zip code into the site to find installers near you.  https://nmeda.org/consumer-resources/dealer-locator/ 
Also, many of our customers are able to have their trusted mechanics or the service dapartments of the vehicle manufacturer's local dealership do the installation.

Can you buy the black rubber slip cover for the pedal?

These are bonded to the metal during manufacturing.  One of the many features that makes our design better than competitors.
Share
A
ble
Motion
Mobility
Off
ers
Quick
Release
Left
Foot
Gas
Ped
al
Acceler
ator
Mobility
Aid
If you or a loved one have limited or no mobility in the right foot or leg, Able Motion can provide an innovative solution for left-foot driving. Our left-foot pedal accelerator easily attaches to most vehicles, allowing you to use your left foot to operate the gas pedal. Quick and easy to install by a professional, the fully adjustable accelerator actuator mimics the left foot's motion onto your car's gas pedal. The top portion is also removable from the base plate for quick release.

The Left Foot Gas Control and Left Foot Accelerator offer a safe and adjustable solution to convert your vehicle from right-foot accelerator-operated to left-foot accelerator-operated quickly and easily.

The Left Foot Gas Accelerator is designed with a safety latch system and adjustable actuator arm that allows you to customize the angle of the left foot pedal to your desired comfort level. The quick-release locking bar is easy to disengage and can be done with a simple pin pull. The quick-release feature of a Left Foot Pedal Accelerator allows you to switch from left-foot to right-foot driving in no time seamlessly. Optimize your driving experience today with this innovative Left Foot Pedal Accelerator!

With proper preparation, practice, and patience, the driver can regain the freedom and independence of driving. A left-foot pedal accelerator is a handy tool for those who have lost the ability to engage the accelerator pedal with their right foot due to any disability. This device can be installed in any car and is designed to be used with the left foot. It is designed to give the driver more control over their acceleration and will also increase their safety while on the road. With the left foot pedal accelerator, the driver can feel more comfortable and confident while behind the wheel.


EASY INSTALLATION = The left foot accelerator pedal is easy to install and requires no special tools or modifications. 


HEAVY-DUTY CONSTRUCTION = Made from heavy-duty aluminum and steel, this accelerator pedal is built to last and can withstand daily use.


IDEAL FOR THOSE WITH DISABILITIES = This left foot accelerator pedal is ideal for those with disabilities, including right leg injured, stroke victims, right leg amputees, and people with MS.


IMPROVES DRIVING EXPERIENCE = The left foot accelerator pedal helps improve the driving experience for those with disabilities by allowing them to control their vehicle with ease.


UNIVERSAL FIT = This left-foot accelerator pedal is designed to fit most vehicles, making it a versatile option for those who need it.
EASILY ADJUST FOR COMFORT
This device is designed to fit into most vehicles and can be customized for greater comfort. The left foot accelerator and accelerator guard can be adjusted from right to left for the user's convenience. The left foot accelerator can be moved forward or backward to fit the vehicle's gas pedal better. The left gas pedal roller and actuator arm can be extended or shortened to provide an optimal fit to the car's gas pedal.
The Actuator Arm works intuitively to adjust to your desired comfort level and your vehicle's configuration for easy left-foot driving.
Six (6) positions for the left gas pedal and the pedal guard.

QUALITY CONSTRUCTION
Our LFA Gas Pedal features secure adjustability for all drivers' comfort and includes a Quick Release System for swift conversion from a right-foot accelerator to a left-foot accelerator. These high-quality, robust, lightweight aluminum and heavy-duty steel handicapped left-foot driving devices are built to last a lifetime with no corrosion. Plus, the Safety Latch System securely holds the top portion from separating from the bottom portion unless the Quick Release Locking Bar has been manually disengaged. Additional mounting plates are available for multiple vehicles and are easy installation.
KEY FEATURES:
Make driving more manageable with our Quick Release Left Foot Accelerator Pedal! This pedal can seamlessly move from one vehicle to the next, perfect for those who have lost control of their right leg or foot. Installing this pedal on the left of your car's brake pedal allows you to drive conveniently with your left foot, giving you the control you need to stay safe on the roads.

This innovative solution easily converts any vehicle to a left-foot accelerator operation, making it universal and adjustable to almost any car with automatic transmission. The pedals actuator arm ensures a simple and efficient conversion to the left-foot accelerator.

This product is specifically designed for individuals with limited to no mobility in their right foot or leg, such as stroke survivors or right-leg amputees.



The intuitive Actuator Arm adjusts to your desired comfort level and your vehicle's configuration, making left-foot driving easy.
Installing Your Mobility Device is Easy! Our complete instruction manual, included in every box, shows you how to bolt the base plate into the floorboard with the brake between the pedals. This will require eight small holes to be drilled in the floorboard and mounted with the included bolts. For best results, we recommend consulting or having a professional mobility installer or mechanic help to avoid any potential damage to the factory vehicle.


This left-foot pedal accelerator is crafted with High-Grade Aluminum and SS Precision CNC Construction and reinforced with Galvanized Hardware for maximum durability.

Spring-loaded and adjustable actuator to work intuitively and fit any vehicle

Anti-slip grip on pedal
UNIVERSAL ADJUSTMENTS FOR YOUR VEHICLE
This

universal

Left

Foot

Acceler

ator

Operation

solution

is

designed

 to convert any vehicle to a left-foot driving accelerator operation easily

. Boasting a fully adjustable pedals actuator arm that can be installed in almost any car with an automatic transmission, it's the perfect innovative solution for those looking to shift to left-foot driving.

The Actuator Arm is designed to intuitively adjust to your desired comfort level and your vehicle's setup for effortless left-foot driving.

The pedal can be moved to the right or the left as needed. To adjust the pedal, loosen the hex screws and move it to the desired position, then retighten the screws.
FITS MOST VEHICLES
AMM Able Motion Mobility's Left Foot Accelerator (LFA) is designed to help stroke victims, right-leg amputees, and those with right-leg injuries regain control and independence by allowing them to drive using their left foot. Our lightweight and easy-to-install left-foot accelerator gas pedal bolts into most vehicle make and models and acts and feels like an existing factory pedal. With our LFA, users can quickly move to and drive a second vehicle or remove it for a right-foot driver.

Although it can take some time to become accustomed to the left-foot accelerator, the benefits can be life-changing. Not only does it allow them to drive with greater comfort and confidence, but it also helps improve coordination and balance. Users may also need to adjust the seat position and pedals to reach the left-foot accelerator comfortably.
KEYS TO DRIVING WITH A LEFT-FOOT ACCELERATOR PEDAL DEVICE:
Discover

the

technique

for

driving

with

a

 left-foot

 pedal

accelerator

.

If you're looking for guidance in driving with your left foot on the accelerator pedal, it's best to work with an instructor with experience in this area. Practicing with an instructor who is knowledgeable in left-foot accelerator pedal driving can help you become more comfortable and confident behind the wheel.

Invest in a high-quality Left Foot Gas Control accelerator pedal for reliable control of your vehicle's gas and brake.

For the best driving experience, ensure your seat and steering wheel are adjusted to your comfort preferences before engaging your Left Foot Accelerator Assist. This feature will help you get the most out of your vehicle, allowing you to drive safely and efficiently.

When driving, be sure to use extra caution and take frequent breaks when necessary. For those with a Left Foot Pedal Accelerator, use it cautiously to ensure the best possible driving experience.

If you have an amputation or injury affecting your left foot, it's essential to know the limitations of Left Foot Driving. Plan and take the necessary precautions to stay safe on the road.

Ensure safe driving by following your doctor or prosthetist's instructions regarding using Left Foot Pedal Assist.

A BRAND YOU CAN TRUST
At AMM Able Motion Mobility, we are the trusted source for left-foot accelerator pedals for individuals with amputations, disabilities, or medical conditions that prevent them from using their right leg. Our American engineering and quality products provide drivers with the best solution for regaining mobility and independence. With our left-foot accelerators, amputees, stroke victims, and those with medical conditions can get back on the road, allowing them to regain the freedom to drive.
HOW TO DETERMINE THE BEST-LEFT FOOT ACCELERATOR FOR YOU
If you have any physical impairments or disabilities, you should consult your doctor to determine if a left foot accelerator is suitable for you, given your physical ability.

Max

im

izing

your

driving

experience

by

investing

in

a

higher

-

end

left

-

foot

accelerator

can

help

if

you

're

frequently

driving

long

distances

or

in

heavy

traffic

.

These

acceler

ators

typically

have

more

features

and

are

 

durable

,

meaning

they

can

last

longer

.

When evaluating the seller, it is essential to consider their industry longevity and reputation. Do they have a long-standing presence in the market, or are they known to produce knock-off products from overseas?

Does the product have special features, such as non-slip padding on the pedal or a quick-release mechanism?
Proper preparation, practice, and patience with your Left Foot Accelerator can help you regain driving freedom and independence. You can get back to driving safely and confidently with the right approach.


DESIGNED AND ENGINEERED IN THE USA
Our products and designed and engineered in the USA
We are a US company based out of Myrtle Beach, SC. Our products are designed, tested, and engineered in the USA before being sent to our factory for production.
AMM ABLE MOTION MOBILITY LEGAL DISCLAIMER
AMM ABle Motion Mobility products are warranted to be free from material and artistry defects for two (2) years or 730 days from the original customer's purchase date. All warning messages must be adhered to strictly, and regular maintenance procedures must be followed.

AMM Able Motion Mobility does not assume liability for defective products not manufactured or supplied by AMM Able Motion Mobility.

AMM Able Motion Mobility LFGP (

Left Foot Gas Pedal Accelerator

) is designed to provide driving assistance for people who can't drive with their right foot. By operating this drive assist, drivers can control the accelerator pedal with the left foot.

Drivers should abide by local laws and regulations when using this device.

Before driving vehicles with any AMM Able Motion Mobility LFGP on the road, drivers should practice in enclosed areas and prepare enough because going on the left foot will be completely different from your previous driving experience, even if you have long-term driving experience.

Please ensure that you can control AMM Able Motion Mobility LFGP completely before buying and using it.

As the manufacturer, we are responsible for the quality of the product, and we are sure that AMM Able Motion Mobility LFGP has good driving assistance functions as described. Users and drivers should always be responsible for their behavior driving with an LFGP.A

AMM Able Motion Mobility's LFGP is only applicable to vehicles with automatic transmission, DO NOT install or use it on any manual transmission vehicles. A

AMM Able Motion Mobility LFGP has not been evaluated and approved by the FDA; please consider it carefully before buying or using it.

Again, please always be cautious about driving.
---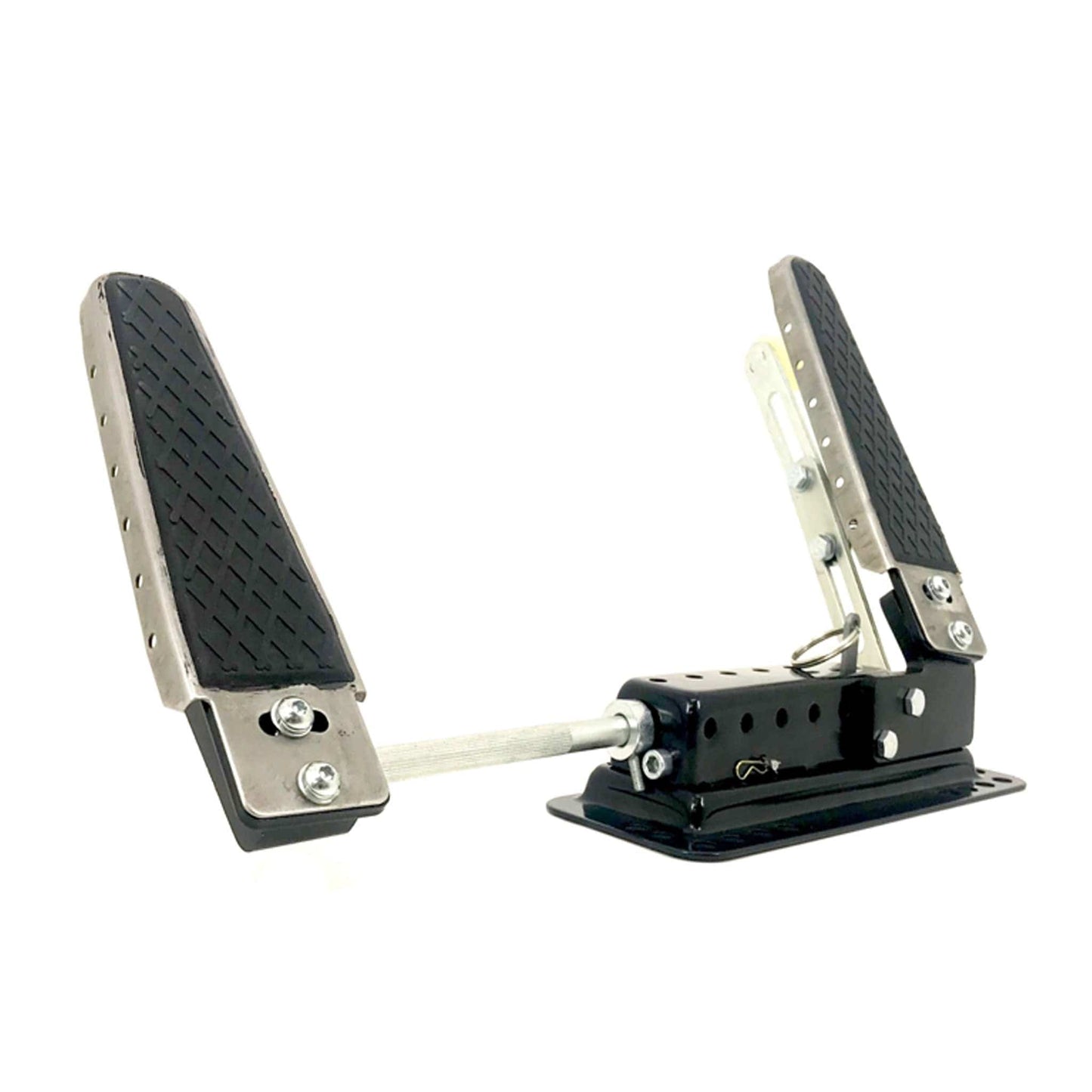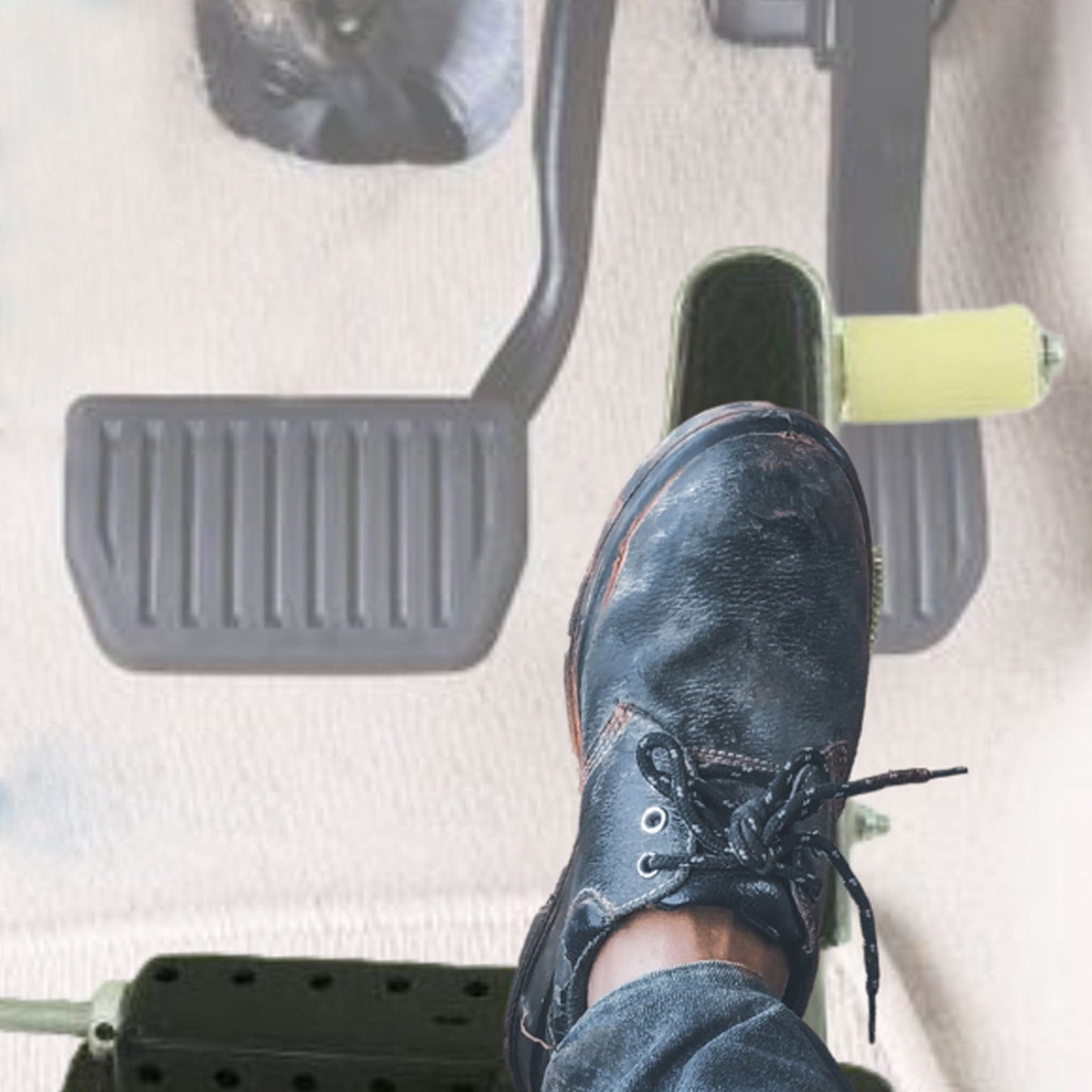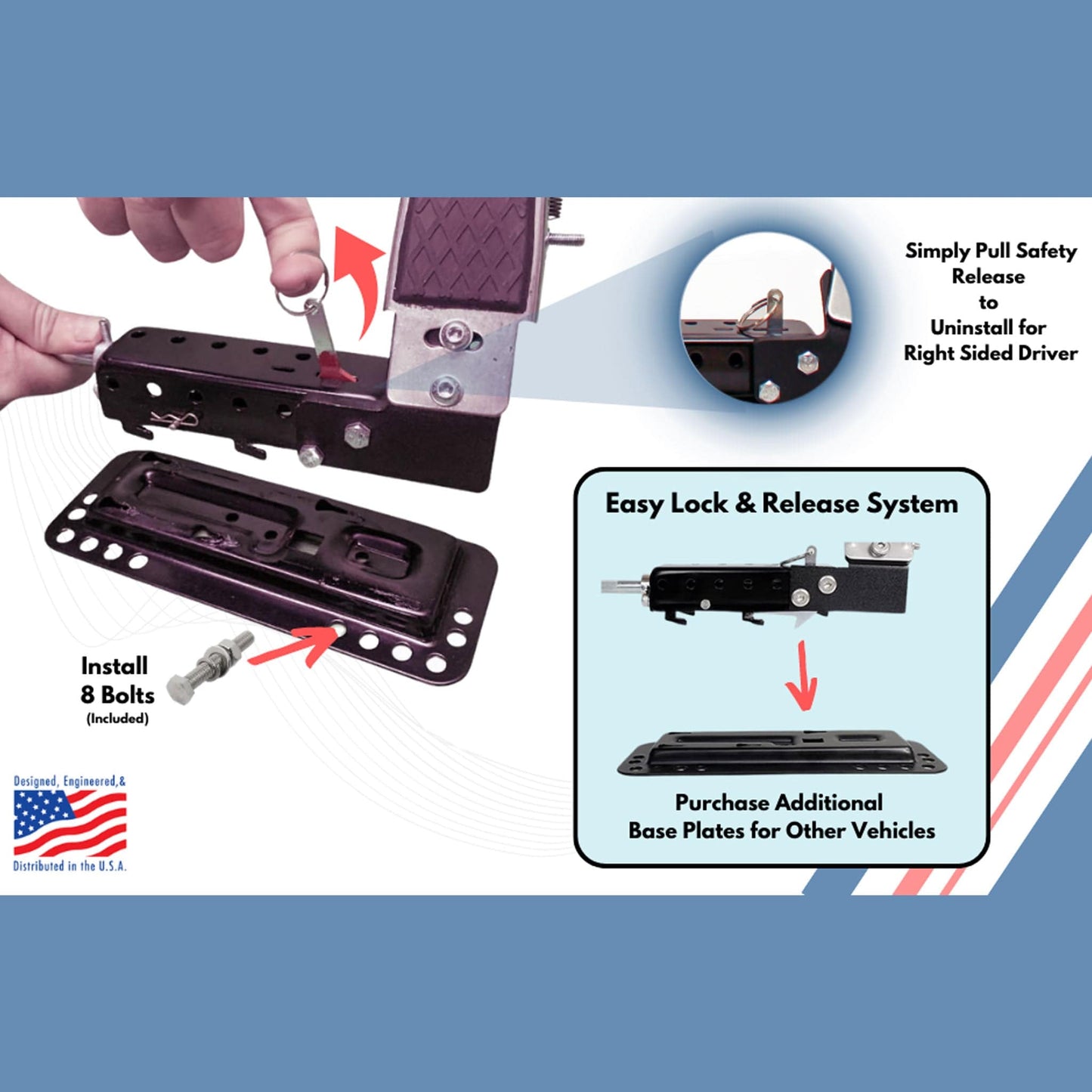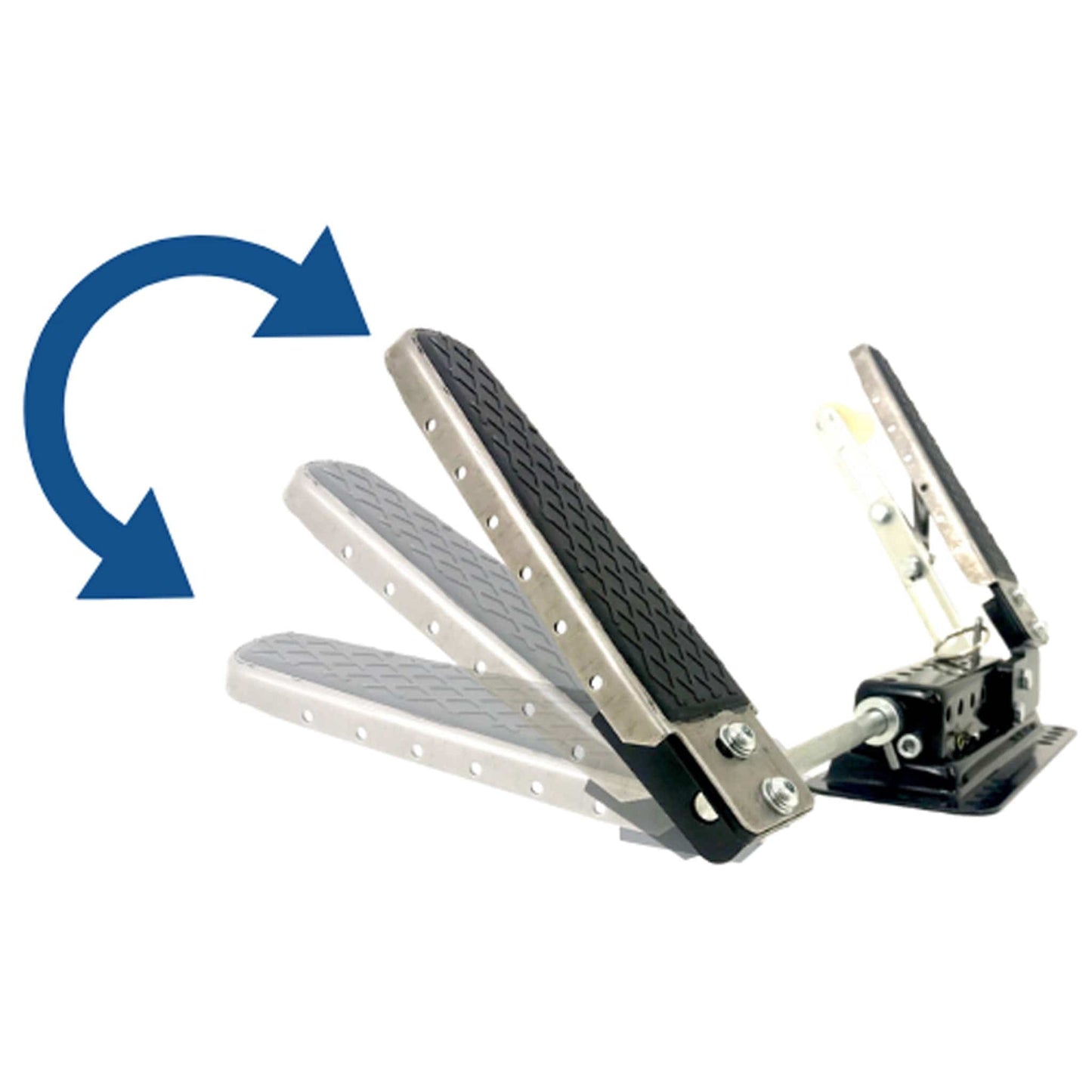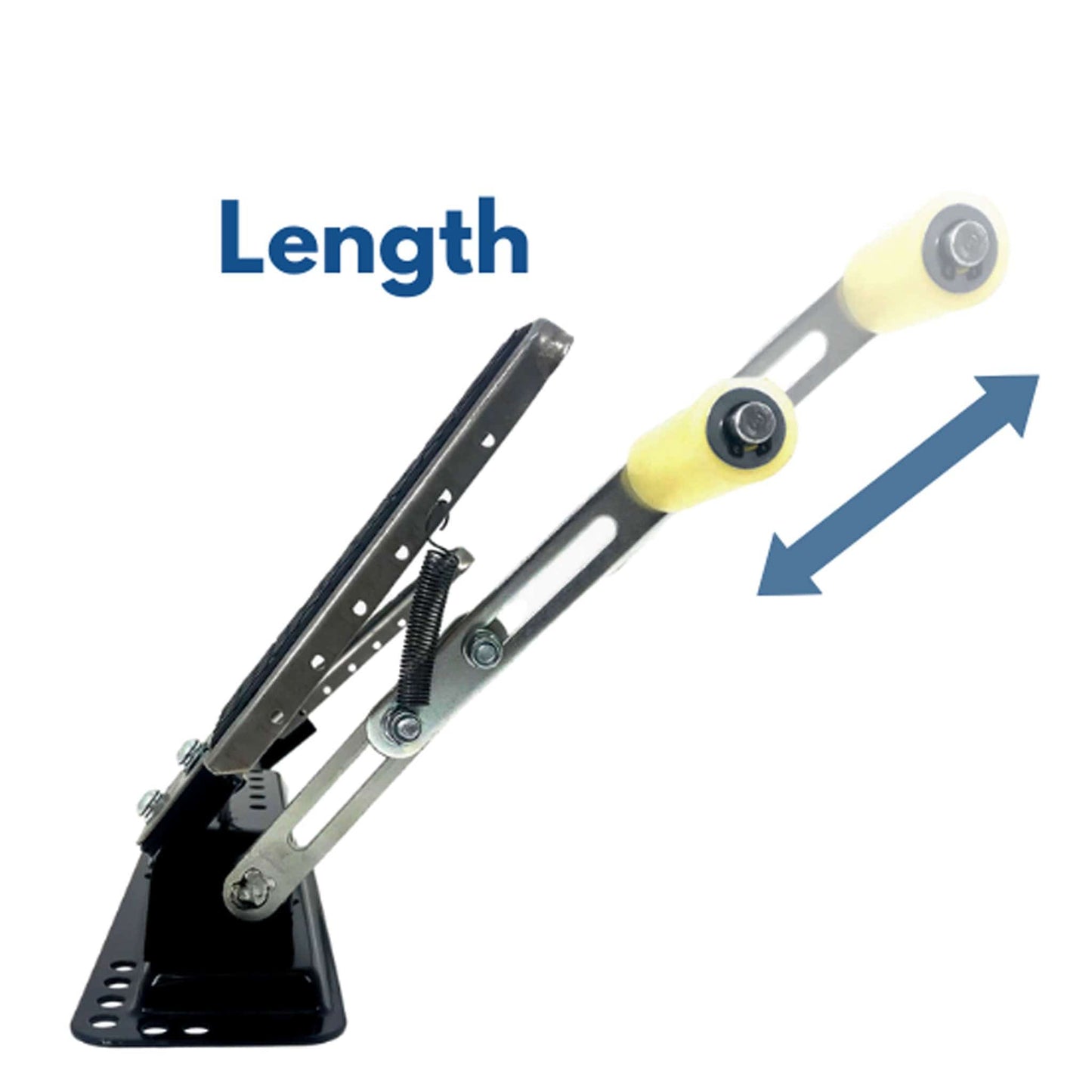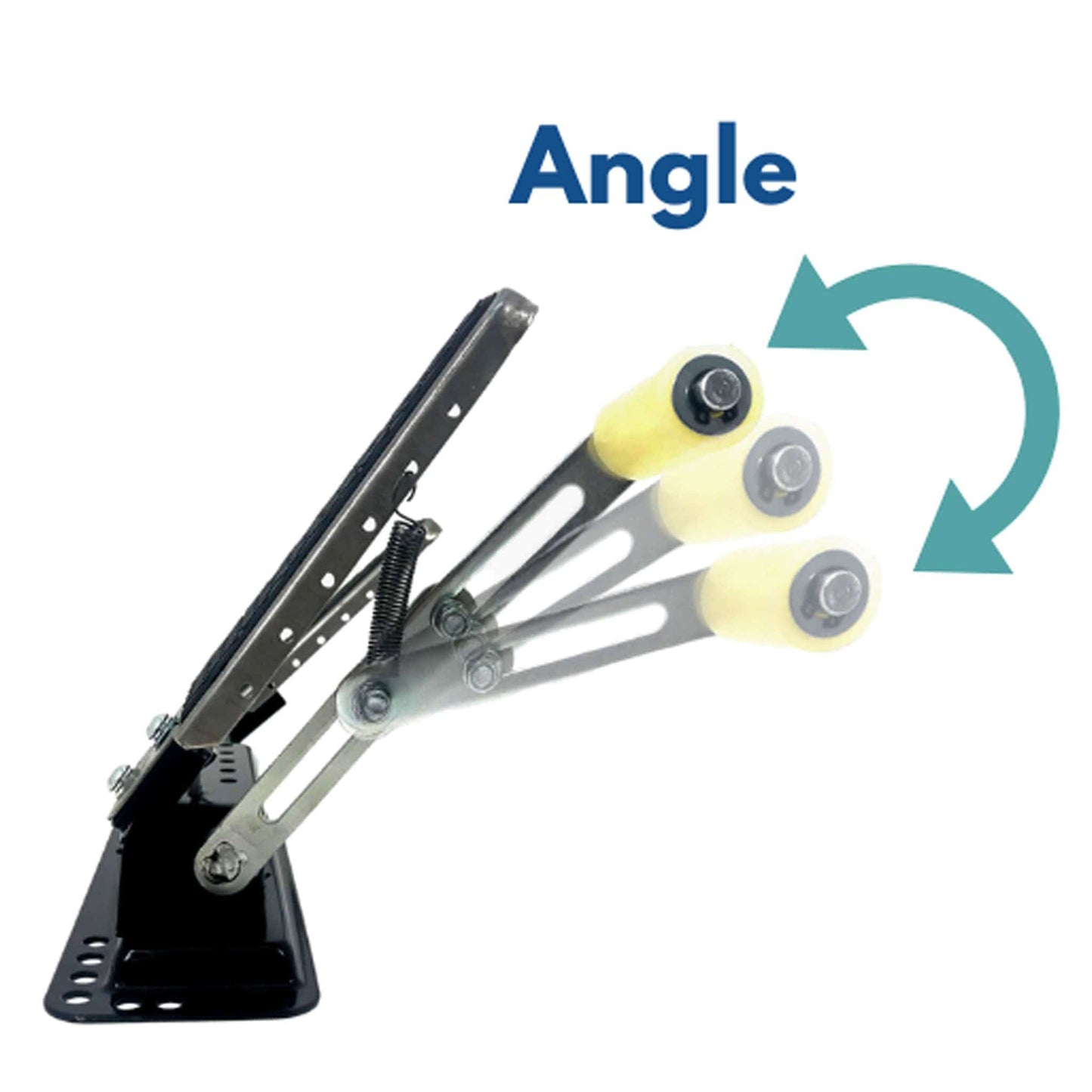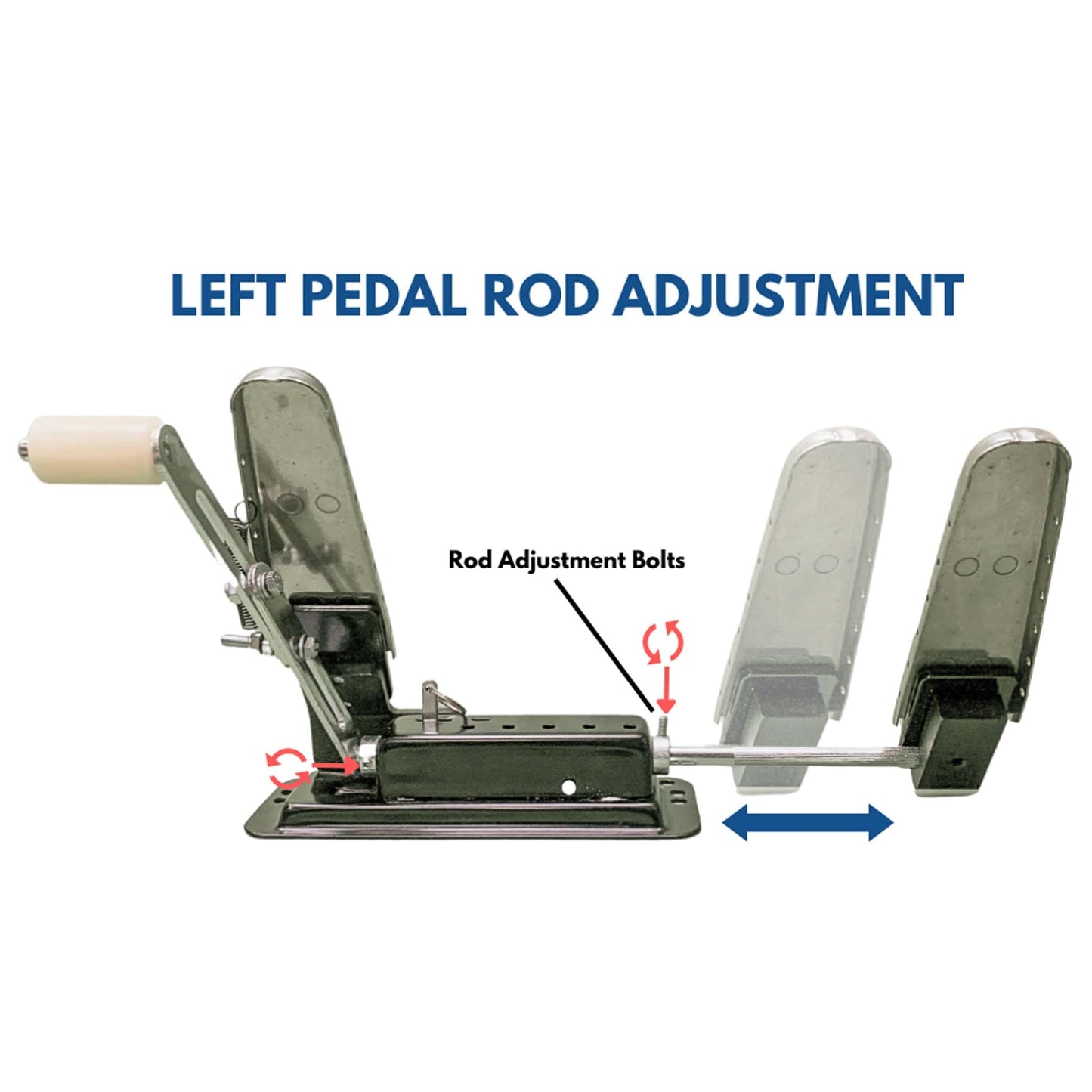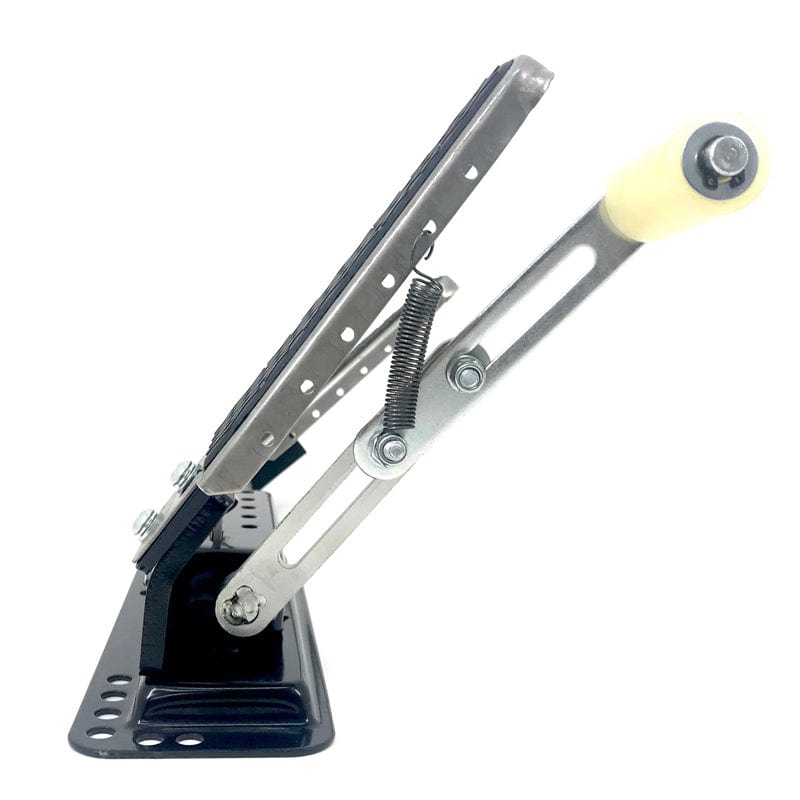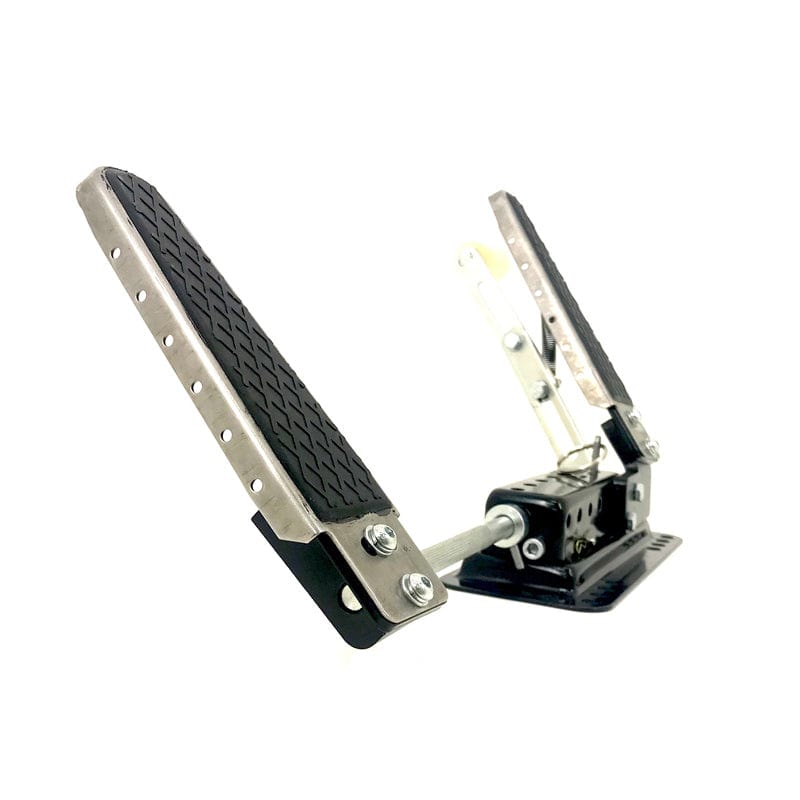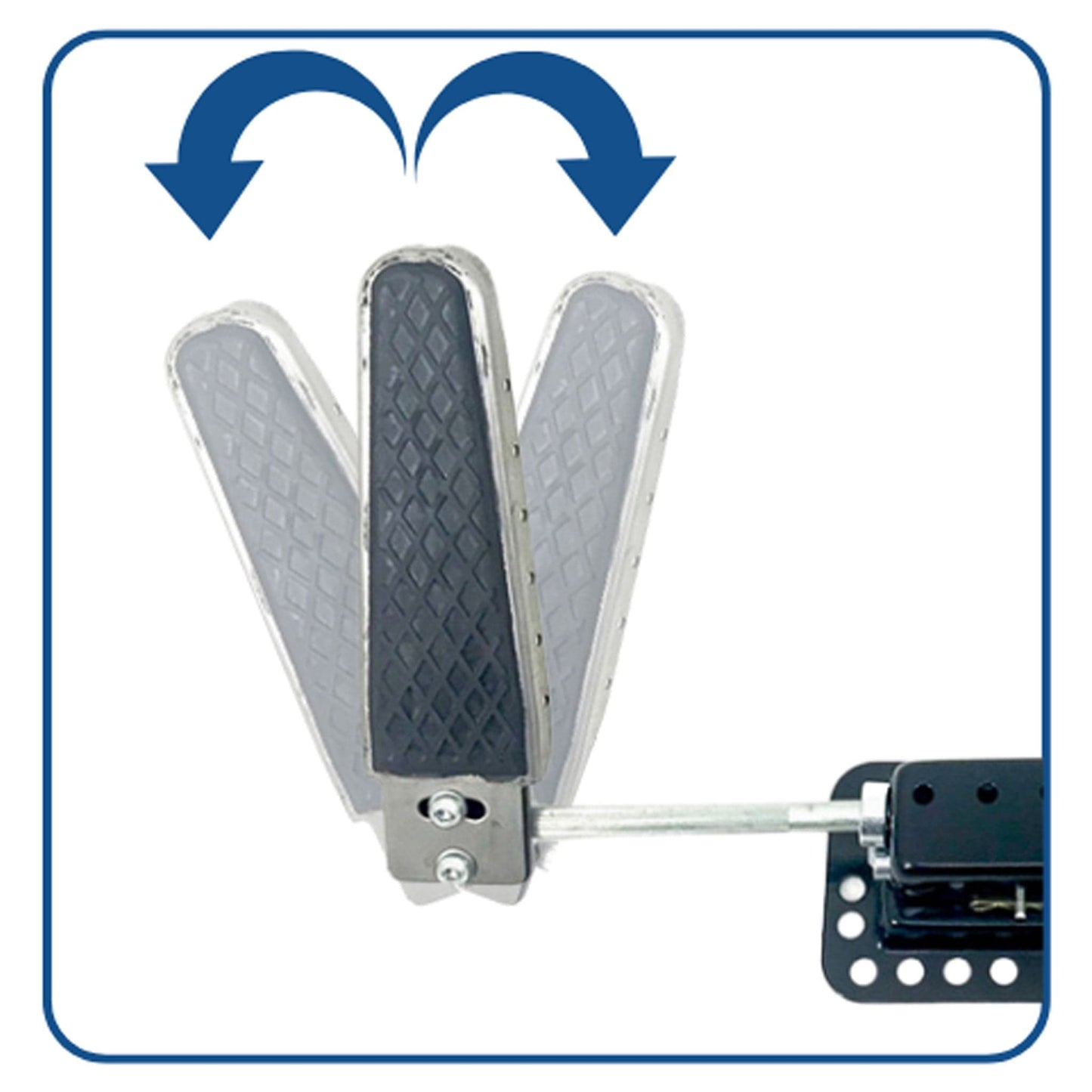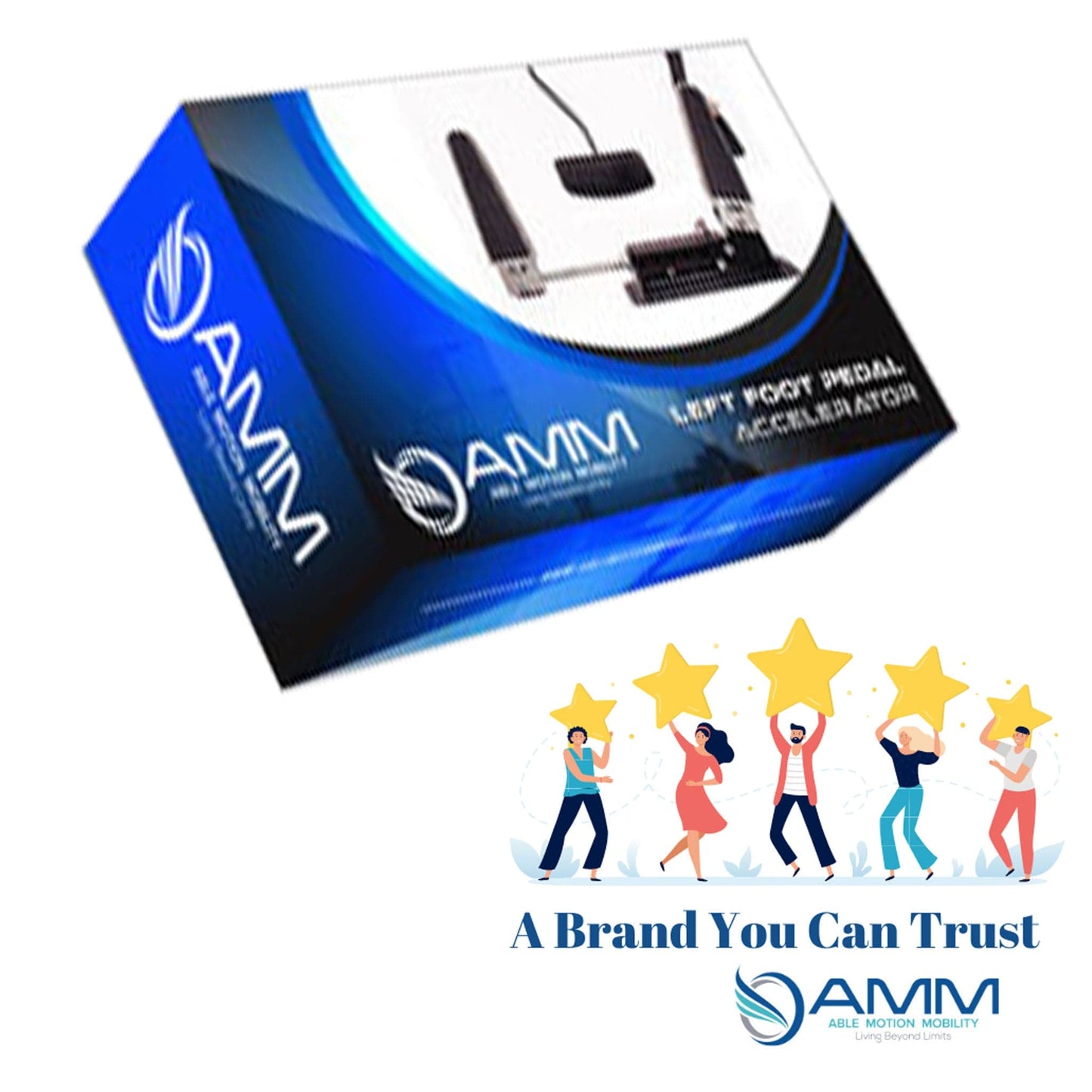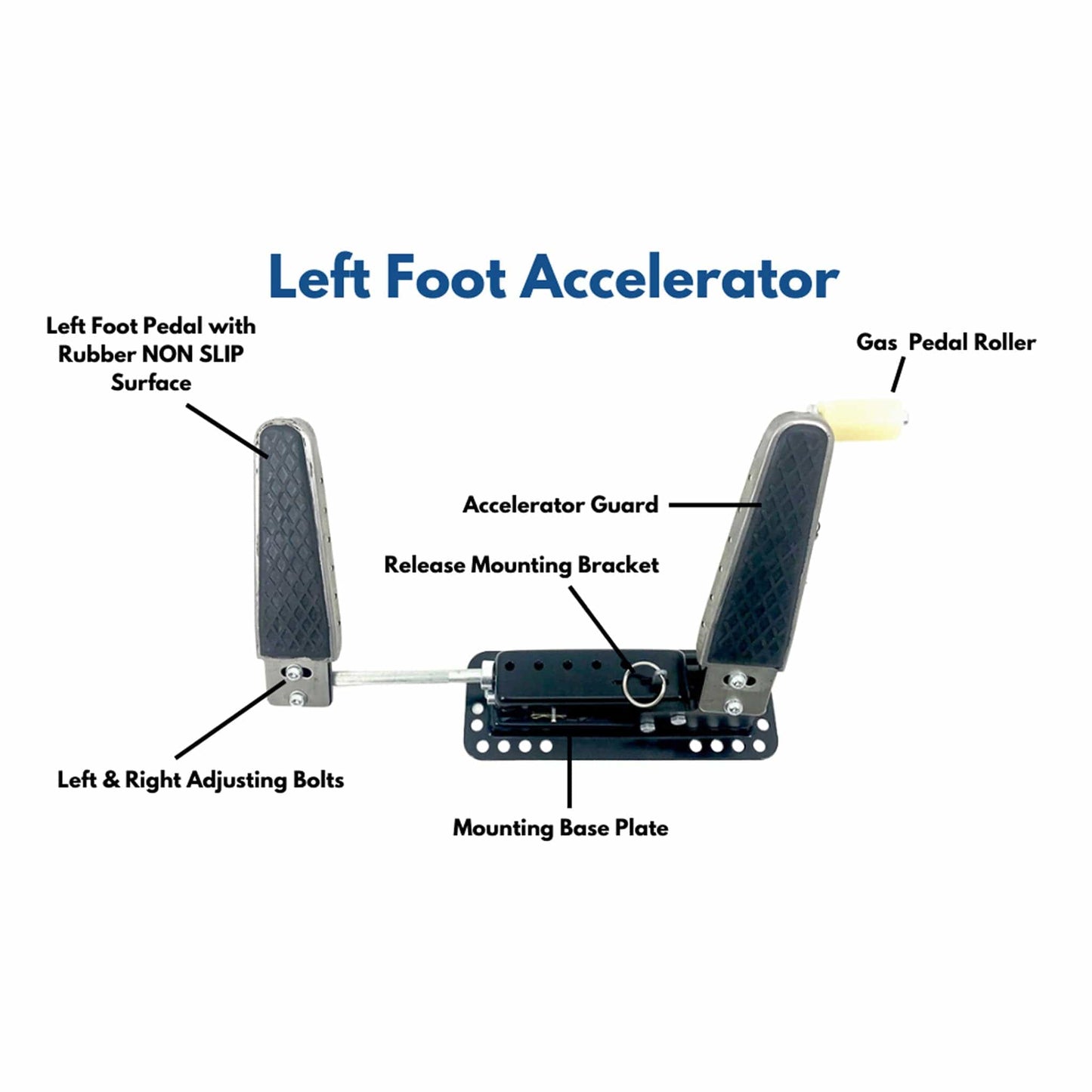 Left Foot Gas Pedal Adaptor
I bought the left foot accelerator adaptor, about 30 days ago. My local Big O tire store did the install. I was stuck at home not able to get out for 6 years. I had to ask people for rides to the doctor, to the grocery store, to the library.. everywhere. Not now! I drove for 55 years, motorcycle accident, lost my right leg. Stuff happens. Now I can drive again. I started just sitting in the drive seat. Started my truck. Then I drove around the block. I cheat, I use my right leg to brake. Now I drive on the freeway, [****] miles. I'm still in a
wheelchair, but I'm driving in my truck.
Have not put it on.
My Son thinks it's great.
Left Foot Accelerator
Installation went very well. I have two of the LFA, one for car and one for my truck. The LFA has a lot of adjustment to it but I would like to have seen some adjustment for the accelerator foot guard. That has not adjustment and is a problem in my car that I used some washers behind the bracket to adjust it out slightly. Otherwise it's a good product
Ability
Looks wonderful if only I could get somebody to install it for me
Affordable Left Foot Pedal Accelerator